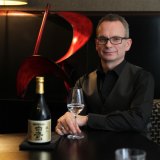 Rodney Setter won the Good Food Guide's sommelier of the year award.Credit:Marco Del Grande
A spokeswoman for Mr Benn and Ms Wild said they "vehemently denied" underpaying Mr Setter and that he had "failed to engage with them" over the redundancy.
"Accordingly, the issuing of Federal Court proceedings in relation to this dispute is a premature and disproportionate response to the claims."
Sepia was regularly awarded the maximum three hats by the Good Food Guide. Last year, restaurant critic Terry Durack described Mr Setter – a former Good Food Guide sommelier of the year – as raising "the role of sommelier to an art form, with plenty of adventures to be had by the glass and post-dinner".
Sepia shut in Sydney last year. Mr Benn and Ms Wild are to collaborate with restaurant mogul Chris Lucas to start a much-hyped new business on Collins Street in Melbourne this year. The yet-to-be named restaurant will occupy multiple levels with 12-metre ceilings and outdoor terraces.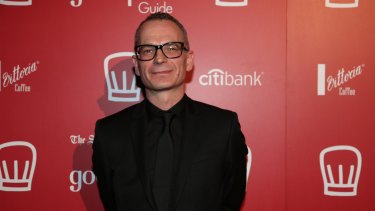 Rodney Setter's claim states he was paid $52,000 a year when he started at Sepia in 2009.Credit:Anna Kucera
Loading
Mr Setter's legal claim says he was offered work at the new restaurant by the Lucas Group but with no offer of continuity of service and only some of his relocation costs.
After he declined two offers, his job at Sepia was terminated without any redundancy pay, his claim states.
Mr Setter's claim states he was paid $52,000 a year when he started at Sepia in 2009 and regularly worked in excess of 60 hours a week. He was paid for 38 hours.
A spokeswoman for Sepia said it "vehemently denied" Mr Setter was underpaid, stating he was paid $90,000 a year at the end of his employment. Ms Wild said in late 2018 that the sommelier had "saved my arse on so many occasions. He's [a] really loyal, intelligent guy. It's people like that, and you look back and just think, 'How were we so lucky to get him?'"
Loading
Mr Bornstein said they were seeking four months' redundancy pay, penalties and compensation for underpayments. An ongoing investigation by The Sun-Herald has uncovered an industry-wide rort whereby permanent staff are significantly underpaid through the excessive use of unpaid overtime.
The investigation has uncovered the practice at restaurant businesses fronted by industry heavyweights Neil Perry, Heston Blumenthal, Guillaume Brahimi and Teage Ezard.
Mr Bornstein said the industry had failed to change despite a string of scandals. "The industry still operates in almost complete disregard of labour standards," he said.
The Rockpool Dining Group has paid back staff $1.6 million for one year's underpayment. It confirmed on Saturday it would make new payments to workers it underpaid from 2013 to 2017.
Ben Schneiders is an investigations reporter at The Age with a background reporting on industrial relations, business, politics and social issues. A two-time Walkley Award winner, he has been part of The Age's investigative unit since 2015.
Royce Millar is an investigative journalist at The Age with a special interest in public policy and government decision-making.