The government has suggested a tough response to terrorist footage in a meeting with Facebook and Google, including livestream delays and hiring more moderators, as pressure mounts on the tech giants over extremist content online.
In the first meeting of the government-led taskforce on Friday afternoon in Canberra, the social media giants faced a lengthy discussion about delaying livestreams, hiring more moderators, scrutinising "nefarious" websites, and encouraging users to report objectionable videos.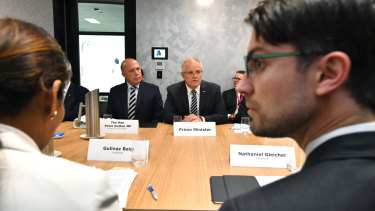 The first meeting in Brisbane last month where the government, social media companies and internet providers supported a taskforce.Credit:Darren England, AAP
The taskforce was formed after a heated meeting in Brisbane last month to help stop violent terrorist and extreme material on the internet after live footage of the Christchurch massacre was widely shared through social media and forums.
Australia's largest telecommunications companies, Telstra, Vodafone Hutchison Australia and Singtel Optus, were called to the meeting with the government alongside Facebook, Google, Microsoft and Twitter. Representatives from the media regulator, the Australian Federal Police and telco industry body Communications Alliance also attended.