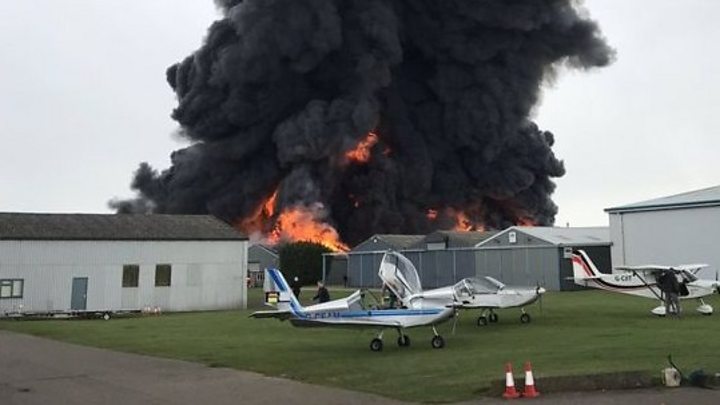 A large fire has broken out at a business park at an aerodrome.
The fire took hold at a warehouse at the Sywell Aerodrome business park in Northamptonshire at about 12:30 BST.
A large column of smoke could be seen coming from the building from several miles away, and explosions have been heard in the warehouse.
Northamptonshire Fire and Rescue Service said eight crews were in attendance, and police have closed roads around the airport.
The fire service said the building was not occupied at the time and there are not thought to be any injuries, but nearby residents have been told to keep doors and windows closed.
The explosions heard during the fire were caused, it is believed, by white goods expanding and exploding with the heat.
Public Health England said it had told Northampton and Kettering General Hospitals to be prepared for people with breathing difficulties.
The fire service said when crews arrived at the scene they had to move a number of Sloane helicopters as well as tanks filled with aviation fuel before tackling the fire.
Chief fire officer Darren Dovey said there was asbestos in the concrete encased roof but they did not believe it posed a significant risk to surrounding areas.
Rachel Noding, who works in a marketing business near where the fire broke out, said she and her colleagues were shocked at how quickly it spread.
She said: "The fire took hold really quickly. Within 20 minutes it was just massive. It was quite scary."
Chris Welch, who works in a nearby office, said he could feel the heat when the fire broke out.
Witness Karen Matthews described the scene as "devastation" and said she was concerned with the pollution the fire would cause.
People have reported seeing the smoke as far away as Milton Keynes, 25 miles (40 km) away.