The Aussie dollar has jumped 0.7 per cent since the rates decision, now firmly above US70 cents at US70.44. It is stronger against all major currencies. It is also close to getting above 78 pence again.
The Reserve Bank has not changed the official target cash rate since August 2016, when it was cut from 1.75 per cent to 1.5 per cent. Coincidentally, current Governor Philip Lowe was appointed in September 2016. He has held rates steady ever since his appointment.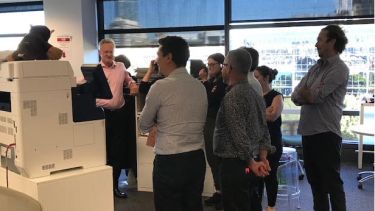 Journalists at the Financial Review gathered for the Reserve Bank cash rate decision.
The S&P/ASX200 dropped 30 points immediately after the rates announcement.
Woolworths dropped from $32.40 to $32.27 and National Australia Bank has dropped from $26 to $25.87 in a matter of minutes.
IT'S A HOLD. The Aussie dollar jumped about half a per cent to US70.3
The RBA Board statement concludes:
The inflation data for the March quarter were noticeably lower than expected and suggest subdued inflationary pressures across much of the economy. Over the year, inflation was 1.3 per cent and, in underlying terms, was 1.6 per cent. Lower housing-related costs and a range of policy decisions affecting administered prices both contributed to this outcome. Looking forward, inflation is expected to pick up, but to do so only gradually. The central scenario is for underlying inflation to be 1¾ per cent this year, 2 per cent in 2020 and a little higher after that. In headline terms, inflation is expected to be around 2 per cent this year, boosted by the recent increase in petrol prices.
The Board judged that it was appropriate to hold the stance of policy unchanged at this meeting. In doing so, it recognised that there was still spare capacity in the economy and that a further improvement in the labour market was likely to be needed for inflation to be consistent with the target. Given this assessment, the Board will be paying close attention to developments in the labour market at its upcoming meetings.
Shares in CIMIC are down 9 per cent since Friday with further sell-offs today. The pressure comes from reports that Hong Kong's GMT Research claims Australia's biggest construction group has used "accounting shenanigans" to inflate pre-tax profits by $1 billion over the past two years.
CIMIC released a statement to the market yesterday afternoon simply saying it is complying with its disclosure obligations. Shares closed at $46.50 on Monday, opened at $44.69 and are currently trading at $45.39. This is 2.4 per cent lower than yesterday's close.
The ASX-listed company, formerly known as Leighton Holdings, issued a statement confirming its compliance with disclosure obligations following articles in The Age and The Sydney Morning Herald that highlighted research from Hong Kong-based firm GMT which has accused it of artificially inflating its earnings over the past two years. In a report first circulated to clients on April 3, GMT accused CIMIC of boosting profits via aggressive revenue recognition, acquisition accounting and dodging losses from a joint venture in the Middle East.
Citi analysts have downgraded Hub24 to a "sell" due to the large increase in price since its first-half result on 18 April. They have also revised down their profit estimate for future years to reflect lower revenue margins and software investment. They now expect to see profit of $7.2 million, 13 per cent lower than previous estimates.
Hub24 shares dropped 3.6 per cent in early trading to $14.51, but have since recovered and are down 2.9 per cent at $14.62.
"We continue to see Hub24 as a key beneficiary of the structural shift towards specialist platform providers and forecast Hub24 to triple its market share of the platform market over the next five years," the analysis team led by Siraj Ahmed wrote in a note to clients.
"However, given the approximate increase in the share price since the first half result, we downgrade to 'sell' with a $13.35 target price. In our view, the current share price does not reflect the downside risks to revenue margin from competition and [earnings] margin from the ongoing need to invest in the platform to support growth."
Andrew Forrest received good press yesterday when he revealed a $655 million donation to the Forrest's Minderoo Foundation. And with Fortescue shares jumping nearly 7 per cent today the value of his 35 per cent stake in Fortescue Mining Group has jumped from $7.79 billion to $8.3 billion.
Fortescue's market capitalisation jumped back up over $23 billion today as shares rose to $7.61 on news that Brazilian miner Vale will have to shut down a mine that it go approval to re-open just a few weeks ago.
Fortescue trading volumes are modest with just 15 million shares trading hands yesterday and today (so far), compared to an average of 19.6 million shares a day over the past year.
CSR is trading 1.3 per cent higher today at $3.40. The building materials company has risen 20 per cent since the start of the year, from about $2.80 to the current price, but is still today 40 per cent lower than where it was 12 months ago. It will report full year results tomorrow and Morgan Stanley analysts are expecting to see earnings of $273 million, with net profit after tax of $184 million and dividends of 13 cents.
"We expect to see the housing downturn beginning to impact and believe alumina contract renewal may prove a headwind. Risks continue to outweigh upside and we retain our 'underweight' stance," the analysts wrote in a note to clients today. They have a target price of $2.75 on the stock.
"As the most housing-exposed stock within our coverage, 2019-20 estimate shapes as a challenging year for CSR. This is likely to be compounded by concerns around the pending expiry of the alumina supply contract (at the end of this year). 2019-20 will also see Managing Director Rob Sindel step down. We suspect the share price will eventually overcorrect, providing a potential opportunity for patient investors. However, this point remains some way off and we believe a cautious approach is warranted."
The S&P/ASX 200 is edging higher today and is now up 57.8 points to 6341, a rise of 0.9 per cent. Of the top 200 stocks 149 are currently in green and just 47 are lower.
The points are being added by gains in Fortescue, BHP Group, CSL, Westpac, ANZ Bank, and Wesfarmers.
Dragging on the market today is GrainCorp, which has dropped 6.8 per cent and taken 0.5 points away. Qantas is also dragging with a 1.3 per cent drop to $5.57, Computershare is down by 1 per cent to $18.13. And Macquarie Group is down 0.3 per cent to $125.31. Macquaire has dropped 8 per cent since last Thursday's close. It presented its half year results on Friday morning with a weak outlook.
It is still up in the air whether the Reserve Bank board will cut the target cash rate this afternoon from 1.5 per cent to 1.25 per cent.
A survey of 29 economists by Bloomberg has them split nearly 50-50, with 15 expecting a cut and 14 expecting rates to stay on hold.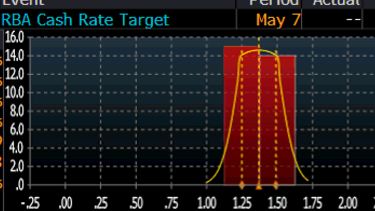 Red bars show 15 economists surveyed by Bloomberg expect a rate cut, while 14 expect the RBA to hold.
The Financial Review's Sarah Turner writes:
Retail sales and the country's trade surplus exceeded economist expectations in March, with the fresh signals on the economy coming just hours ahead of the next RBA interest rate meeting where a rate cut hangs in the balance.
Retail sales growth for March came in at 0.3 per cent. Economists were expecting growth of 0.2 per cent for the month, according to estimates compiled by Bloomberg. February retail sales growth was revised up to 0.9 per cent from 0.8 per cent.
Trade data out at the same time showed a trade surplus of $4.9 billion. Last month's trade surplus was also revised higher, to $5.1 billion, from a previous reading of $4.8 billion, economists were expecting a trade surplus of $4.5 billion, according to Bloomberg.
The Australian dollar held steady at around US69.95 cents after the data. The dollar took a hit at the start of the week after US President Donald Trump shattered hopes of a trade truce with China by threatening to slap tariffs on more than $US525 billion ($751 billion) worth of Chinese goods.