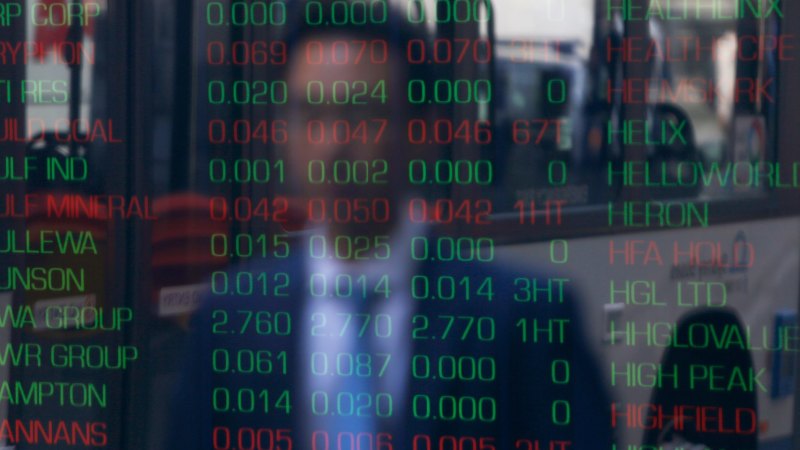 Macquarie Media has just issued a profit warning for the current financial year reducing earnings to between $27 million and $29 million, down from between $29 million and $32 million advised on 15 February. "Trading conditions have fallen below expectations," the company says.
Shares last traded at $1.745.
Macquarie Media is 54.4 per cent owned by Nine Entertainment, publisher of this blog, and 32.3 per cent owned by John Singleton. However, it has been rumoured Nine Entertainment wants to own the entire company.
The profit warning comes as Macquarie Media renegotiates its contract with 2GB presenter Alan Jones, whose employment contract runs until June 30.
According to people familiar with the talks, Jones's contract does not have a non-compete clause but gives Macquarie the "last right of refusal". This means the radio network is able to make a last-minute counter-offer against competitors who want to make a rival bid for Jones. There has been speculation rival broadcasters like News Corp's Sky News could make a play for the controversial radio personality who already provides commentary for the News Corp-controlled broadcaster.
However Macquarie sources are doubtful the news channel would offer a salary competitive with his current contract worth millions of dollars a year. The Daily Telegraph, which is owned by News Corp, reported on Sunday that Macquarie had offered Jones a $2 million salary that the newspaper claims represents a 50 per cent pay cut. Sources close to Macquarie dispute this claim calling it "complete fiction".
Electricity distributor AusNet Services has been fined $150,000 by the Victorian energy regulator for cutting power to homes and businesses without first notifying them. It is the second largest fine Victoria's Essential Services Commission (ESC) – the state's independent energy and water regulator – has ever handed down.
The ESC fined Ausnet after it left homes and businesses in the Bass, Woolami and Glen Forbes regions without power for three hours. Ausnet was accused of failing to give customers the required four days notice of planned outages.
The Essential Services Commission said the incident occurred because Ausnet had failed to keep its network mapping system up to date. "This was a planned outage and Ausnet knew they'd be cutting off the power but they didn't know who it would impact," Essential Services Commission chairman Ron Ben-David said.
"Ausnet has failed to meet expectations."
While the ESC declined to say how many homes and businesses were affected, Mr Ben-David said it investigated 15 individual outages and handed down $10,000 fines for each instance.
China's stock market is bearing the brunt of the latest battle in the trade wars. Shanghai's composite 300 index is currently down 5.5 per cent with the biggest declines in telecommunications, information technology and consumer staples stocks. This is in response to US President Donald Trump saying 'No!' to China's latest attempt to re-negotiate trade deals.
Hong Kong's market is down 3.3 per cent and Australia's is down 1 per cent. The futures for Wall Street are pointing to declines of about 2 per cent and even more for the tech-heavy Nasdaq.
The makers of the famous Penfolds wine brand have secured a victory against a group of counterfeiters who were passing off inferior wines as top shelf drops, including its Bin series in China, using fake labels. Treasury Wines Estates is expecting a default judgment to be issued by the Federal Court on Monday that its intellectual property for Penfolds in China was breached by a little known wine outfit in Adelaide, Australian Rush Rich Winery.
Treasury Wine Estates has already chalked up a victory in the Chinese courts, after the Shanghai Pudong Court upheld its claim that its trademark for Penfolds in China had been breached.
Treasury Wine shares are down nearly 5 per cent today to $16.23.
The company is expected to release a statement on the court matter on Monday afternoon.
Treasury Wine Estates markets its Penfolds brands in China under both the English "Penfolds" name and "Ben Fu" which means 'chasing prosperity' in English. Rush Rich is a loose translation for Ben Fu. Treasury Wine Estate's Penfolds brands has been battling counterfeiters in China after a raft of dodgy products bearing remarkably similar labels and names to its products hit the market in that country. Last year, Treasury Wine Estates took action in China and Australia alleging Australia Rush Rich Winery, which owns R&R Winery in Stonyfell in Adelaide, intentionally breached the Penfolds and Ben Fu trademarks on thousands of bottles of wine.
Bub's Australia today finalised its sales channels into China with the Beingmate Baby & Child Food company and a partnership with Tmall and Chemist Warehouse. Shares jumped 22 per cent in early trading today to $1.61 when it announced a new cow's milk range, and are currently trading at $1.54.
Bubs Australia has a 49 per cent stake in Bubs Brand Management Shanghai, which will distribute its goat and cow milk formulas and food in China.
"With its strong provenance story and authentic domestic position, we believe Bubs has the hallmarks to capture a material share of China's fast growing super-premium infant formula and organic infant food sectors," Beingmate's chief executive Bob Xiufei says.
Shares in Fastbrick Robotics are up 20.5 per cent today to 8.8 cents and were as high as 9.5 cents after it announced a joint venture with Brickworks called Fastbrick Australia. Shares in Brickworks have responded negatively, with a 2.7 per cent drop to $16.09.
FBR has invented robotic bricklaying and what it calls "Wall as a Service" for residential houses. Brickworks is making special bricks for FBR's Hadrian X robot. Under the joint venture Brickworks will have exclusive supply rights in Australia and FBR will have exclusive rights to supply laying services to Fastbrick Australia.
DuluxGroup's board is recommending shareholders vote for the Nippon Paint acquisition, which is offering $9.80 cash per share, including up to 41 cents of fully franked dividends. There is also a special dividend of 26 cents that includes 17.6 cents of franking credits. The offer is a 35 per cent premium on the stock price over the past three months.
Shares are trading at $9.76 today, down 0.3 per cent from Friday's close.
Chairman Graeme Liebelt tells the market this morning: The board has carefully considered the strategic options available to DuluxGroup to maximise value…and we have unanimously concluded that the transaction with Nippon is in the best interest of our shareholders".
"Nippon has been extremely complimentary of DuluxGroup's team, capability, high quality businesses and track record of performance, all of which they want to maintain."
Futures for Wall Street's indices are tumbling after US President Donald Trump tweeted he will increase tariffs on Chinese made goods to 25 per cent on Friday.
S&P500 futures are showing a drop of 1.8 per cent and NASDAQ futures are down 2.1 per cent. This is weighing on Asian markets with the Hang Seng down 2.8 per cent and the Shanghai Composite down 3.7 per cent. Japan's Nikkei is still closed for Golden Week.
Macquarie Group's six-year run of record profits could be at risk after newly elevated chief executive Shemara Wikramanayake warned the home-grown investment bank's 2019-20 result will be slightly lower than the previous year's, the Financial Review reported on Friday afternoon.
The bank's immediate problem is that it won't benefit from the same big investment profits from the Macquarie Capital dealmaking division as it did in 2018-19, it told investors on Friday. Macquarie Capital's profit was up 89 per cent last financial year, to $1.35 billion, including the windfall from the sale of its stake in Quadrant Energy. It will pay a final dividend of $3.60 a share, partly franked, up from $3.20, on July 3.
Shares dropped 7 per cent on Friday to $126.63, but rebounded during the day to $128.81. Then this morning they dropped 3 per cent to $125 and are currently trading at $125.21, the lowest price since 26 March.
This morning, Bloomberg reports a fund called PFA, which oversees about $90 billion in assets, is refusing to enter new deals with Macquarie Group Ltd. amid a national campaign in Denmark to fight financial misconduct.
Macquarie is one of a number of banks being investigated by German authorities in connection with alleged dividend tax fraud. In November, Danish Tax Minister Karsten Lauritzen said his country was also looking at the Australian firm's conduct. That came amid a broader crackdown on tax fraud in Denmark after offshore financiers stole almost $2 billion from state coffers in a fraudulent rebate scheme.
"Before we see a settlement on this and can see a stronger commitment from them on a new way of conducting business, we cannot do new business," Allan Polack, the chief executive officer of Copenhagen-based PFA, said in a phone interview.
"It has not been totally settled yet. So we have to come up with what Macquarie will do going forward," he said. "But right now, they are on stand-by. That's for sure."
The comments follow earlier criticism from PFA, which has called Macquarie's involvement "in dividend withholding tax fraud" conduct that is "completely unacceptable" and that, "at PFA, we strongly dissociate ourselves from."
A Macquarie spokeswoman declined to comment and referred to the company's tax policy.
ATP, Denmark's biggest pension fund with about $120 billion in assets, decided late last year to freeze all future investments with Macquarie pending the outcome of investigations. The development interrupts years of cooperation in which Macquarie had partnered with Danish pension funds in some of their biggest infrastructure deals. As recently as 2018, ATP and PFA teamed up with Macquarie to buy Danish phone company TDC A/S. Before that, the firm was involved in the acquisition of Denmark's main airport.
ATP's interim CEO, Bo Foged, said in an interview last week that his fund is in "an ongoing dialog" with Macquarie. The Australian firm is still in "what we consider a self-cleaning process," he said. As things stand now, ATP is "still not able to do new investments with Macquarie," he said.
German authorities investigating the allegations have narrowed down the number of "persons of interest" at Macquarie to 22 past and present employees, chief executive Shemara Wikramanayake said at a February briefing. Those 22 people included herself and her predecessor.
The S&P/ASX is down 81.5 points to 6253, a drop of 1.3 per cent. It is turning into a difficult day as corporate news delivers some bad surprises and traders may already be factoring in a big drop on Wall Street tonight after US President Donald Trump antagonised China.
The biggest drag is the financial sector, which has taken off 26.5 points alone. Materials, energy and industrials are dragging. There are currently no sectors in green and only 13 companies in the index are trading higher.
CIMIC Group is now down 10.7 per cent to $44.66, Appen is down 5.3 per cent, WiseTech is down 4.5 per cent, and Beach Energy is down 4.7 per cent.