Mr Shorten has said the upcoming federal election this month would be a "referendum on wages" and he wanted to create a "living wage" .
Speaking from the sidelines of Macquarie Bank's Australian Conference last week, energy and resources companies said government intervention created more investment uncertainty for the industry.
Energy generators AGL and Origin's chiefs said they supported policies that offered certainty and allow industry to pass the benefits onto workers.
"For us, I think we're focused on delivering good productivity benefits at our site, we can share those productivity benefits with our workers and that's a great way to drive through improved wages and conditions to the people that work for us," AGL CEO Brett Redman said
Loading
Origin said flexibility around wages let industry stay agile through both booms and downturns, and encouraged Mr Shorten to consult with businesses before implementing new regulations.
"As an employer of 5,500 Australians, Origin supports continued flexible wage arrangements. This will ensure our cost of labour reflects market conditions, allowing us to remain internationally competitive and ultimately delivering the most efficient economic outcome," Origin chief executive Frank Calabria said.
"Any consideration around introducing new regulations should be undertaken in consultation with industry so that there is no unintended impact on jobs growth."
Gas pipeline monopoly APA's outgoing chief executive Mick McCormack said the legislation was unnecessary and warned wage re-regulation could be a slippery slope towards more intervention.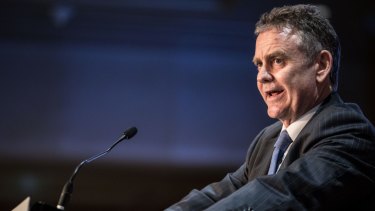 APA boss Mick McCormack.Credit:Cole Bennetts
"I think the system we've got is working, the issue with picking out one sector and targeting that is 'where does it stop?'," Mr McCormack said.
You start something like that and where do you stop?

Gas pipeline CEO Mick McCormack
Miner Fortescue Metals Group's chief executive Elizabeth Gaines warned against treating all Australian businesses the same. She added that as the resources industry was well paid there was little need for wage intervention.
"There are different industries and different wage conditions. We have a very highly incentivised and well-remunerated workforce, so I'm not sure that the changes being discussed in terms of wage policy are actually going to necessarily apply to the mining sector, particularly in the market conditions we currently have," Ms Gaines.
Fortescue chief executive Elizabeth Gaines said the mining sector is highly incentivised and well paid.Credit:Bloomberg
"I don't think it's applicable to the mining sector."
Oil and gas company Woodside Petroleum said there were likely major changes ahead if Labor's planned industrial relations policy were an indicator, and could impact future workplace bargaining agreements with unions.
"It always brings concerns when there might be changes," Woodside Petroleum chief executive Peter Coleman said.
"The key is making sure we get certainly – particularly around enterprise bargaining agreements."
Covering energy and policy at Fairfax Media.