National Australia Bank has taken the axe to its interim dividend after surging customer compensation bills in the wake of the Hayne inquiry, slicing the interim payout per share to 83 cents 99 cents fully franked, a reduction of 16.2 per cent.
It is the first time NAB has reduced its dividend in five years The bank described it as necessary because of a "more difficult operating environment" as the bank's compensation bill to customers has soared to about $1.2 billion.
First-half cash earnings rose 7.1 per cent to $2.95 billion from the year-earlier period. In late April, the bank said it would take a new $749 million charge for customers dudded by bad advice, which reduced reported cash profit by $325 million.
James Eyers has the full story here.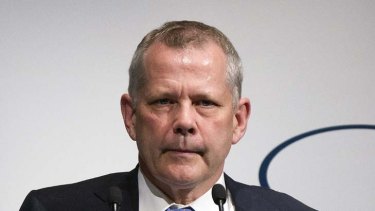 Chief executive Philip Chronican. Credit:AFR
Good morning and welcome to Markets Live for Thursday.
Your editor today is William McInnes.
Futures are pointing lower this morning after the Fed didn't tilt dovish as the market had been expecting and NAB cut its interim dividend.
This blog is not intended as investment advice.