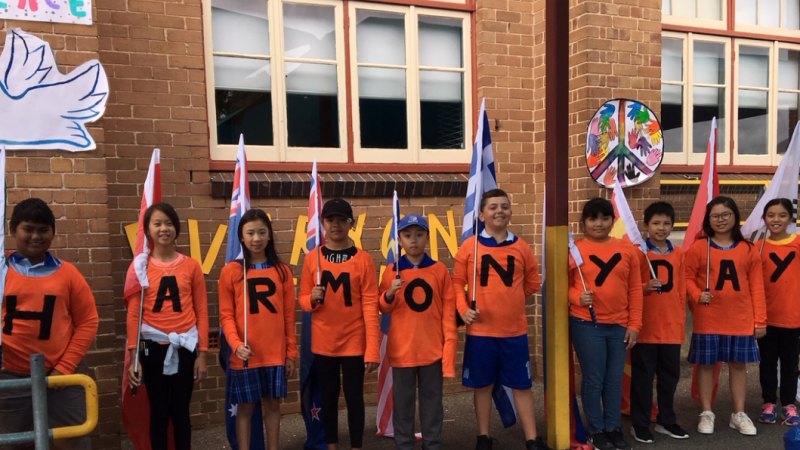 The school, in southern Sydney, is situated on the traditional lands of the Bidjigal people of the Eora nation. With a population of 1236 students, it's a culturally diverse and vibrant community with more than 50 language backgrounds other than English.
Student involvement is a key factor in the school's Harmony Day celebrations, Baitieri says, as it instills a sense of pride and acceptance in a multicultural community. One important aspect of student involvement is that students who are not already in formal leadership roles within the school are given an opportunity to shine.
During Harmony Day assembly, these pint-sized leaders showcase a variety of cultures represented at the school. This includes a flag parade, cultural dance performances, talks, singing, poetry, tapestries and art displays. Students are encouraged to wear traditional costumes.
This year, a new initiative for Harmony Day was the creation of an outdoor gallery of images based on the theme, "playing around the world". Students, teachers and parents were invited to visit the display of multicultural images and asked to take an opportunity to reflect on the deeper concepts of diversity, equity and perspective.
Throughout the year, the school continues to encourage the principles of tolerance and diversity by acknowledging cultural and religious festivals such as Chinese New Year, Moon Festival, Eid, Diwali and Easter at school assemblies.
Resources are prepared by the school's equity team to assist classroom teachers to further promote openness and tolerance. These practices are underpinned by the NSW multicultural education policy, which responds to the cultural, linguistic and religious diversity of NSW government schools.
Through professional learning about the multicultural education policy and the anti-racism policy at the school, staff implement inclusive practices to support the wellbeing of students and the community.