SPONSORED POST
Another uneventful night in global markets, traders have apparently occupied themselves positioning for the ramp-up in economic data in the next 24 hours. It sets up the ASX to retreat at the open, writes Kyle Rodda.
Equity indices pulled back in North America and Europe, as global safe-have bonds caught a bid. Commodities fell across the board, naturally with the exception of gold, which ticked higher on haven-demand. The G10 currency complex was lifeless, with the Japanese Yen edging higher as the carry trade was unwound on anti-risk sentiment. And in line with overnight trade, after a flat day yesterday, SPI Futures are indicating the ASX200 will drop 15 points come the open this morning.
The macro-event that caught most attention last night was the IMF's anticipated downgrade to global growth. Given the loaded calendar from now until Friday, perhaps that update was an appropriate precursor to the litany of risk-events. As can be inferred from the description of overnight price action, the release wasn't met with a great deal of surprise, reaction or volatility.
However, the message was stark, and worth noting. In the wise-old-eyes of the IMF, global economic growth ought to slow down to 3.3 per cent in the year ahead – a revision lower of its previous estimate in January of 3.5 per cent.
Read the full 8@eight here.
Here are the overnight market highlights:
SPI futures down 12 points or 0.2% to 6185 at 7.15am AEST
AUD flat at 71.29 US cents
On Wall St: Dow -0.7% S&P 500 -0.6% Nasdaq -0.6%
In New York, BHP -1.1% Rio -0.8% Atlassian +0.1%
In Europe: Stoxx 50 -0.6% FTSE -0.4% CAC -0.7% DAX -0.9%
Spot gold +0.5% to $US1304.49 an ounce at 2.28pm New York
Brent crude -0.7% to $US70.63 a barrel
US oil -0.6% to $US63.99 a barrel
Iron ore -0.5% to $US94.85 a tonne
Dalian iron ore -0.6% to 648 yuan
LME aluminium +0.4% to $US1878 a tonne
LME copper +0.2% to $US6487 a tonne
2-year yield: US 2.35% Australia 1.48%
5-year yield: US 2.31% Australia 1.50%
10-year yield: US 2.50% Australia 1.89% Germany -0.01%
US-Australia 10-year yield gap near 7.15am AEST: 61 basis points
Here's what Crown has said this morning in an ASX announcement:
Crown Resorts Limited refers to its announcement yesterday in relation to confidential discussions with Wynn Resorts regarding a potential change of control transaction following approaches by Wynn to Crown.
Crown notes that Wynn has announced that it has terminated all discussions with Crown concerning any transaction.
Wynn Resorts has shut down a $10 billion takeover offer for Crown Resorts, blaming the "premature" disclosure of what the Las Vegas gambling giant described as preliminary negotiations.
Only hours after confirming via a US Securities and Exchange Commission report that it was talking to Melbourne-based Crown, Wynn issued a terse statement that all bets are off.
"Following the premature disclosure of preliminary discussions, Wynn Resorts has terminated all discussions with Crown Resorts concerning any transaction," the company said on Tuesday (Wednesday AEST).
Jacob Greber has the full story here.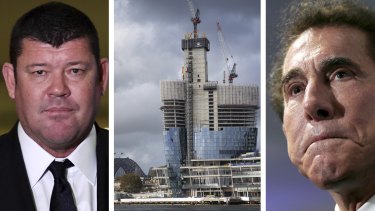 Crown had earlier said the talks were at a preliminary stage, and that the companies had not agreed on a value or deal structure.Credit:AAP, David Porter, AP
Good morning and welcome to Markets Live for Wednesday.
Your editor today is William McInnes.
The big story this morning is Wynn pulling out of takeover talks with Crown Resorts saying the "preliminary deal" was revealed prematurely.
This blog is not intended as investment advice.