Global policymakers acting hastily in regulating to curb the influence of US-based digital giants could have unintended consequences for news publishers, warns The New York Times Co chief executive Mark Thompson.
"Policymakers and political leaders find it very hard to keep up with what is going on in this world and you don't want to end up with misguided regulation which is either economically damaging for publishers or … ends up damaging freedom of speech and plurality of opinion," he said.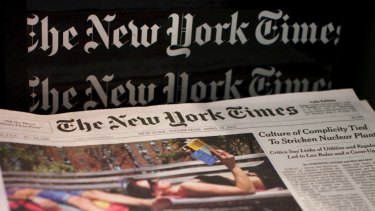 The New York Times Co chief Mark Thompson believes Netflix and Spotify have helped make subscriptions the new norm for consumers globally.Credit:Michael Nagle
Regulators across the world are struggling with how to tackle the growing influence of the tech behemoths, their impact on journalism, fake news, extremist content and privacy. The Australian competition regulator is expected to announce a series of measures to regulate the digital platforms in June following an 18 month review.
Mr Thompson said policymakers had to make sure they avoided "perverse outcomes" explaining that when the European General Data Protection Regulation came into force last year it was more difficult for publishers to comply with that than the digital platforms that the rules were designed for.