Australia's construction industry watchdog has launched unprecedented action against more than 50 steelworkers from Liberty OneSteel who walked off the job over three days last year, including to attend a large-scale union rally in Melbourne's CBD.
The Australian Building and Construction Commission (ABCC) filed legal action on Friday alleging 53 workers at Liberty OneSteel's Noble Park reinforcing site engaged in "unlawful industrial action" on the day of the national union movement's so-called "change the rules" rallies. The rallies argued the nation's workplace laws are "broken" and weighted too far in favour of employers, while workers struggled to receive wage rises.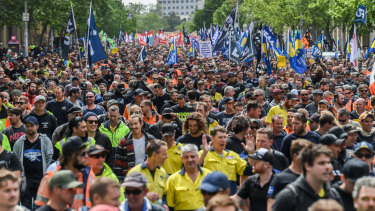 Thousands of union protesters gathered in Melbourne's CBD for the ACTU's 'change the rules' rally in October.Credit:Justin McManus
The unionised workers then attended their workplace but refused to work on two subsequent days – October 31 and November 1 – in retaliation against management's response to their absences from work to attend the rally, according to documents filed in the Federal Court.
Union officials claimed the workers' refusal to work was due to "reasonable apprehension" about workplace safety, alleging they were being "bullied by management, dragged into meetings and having their employment threatened".